As a young child, we drank raw milk straight from the bulk tank at the farm of the kids who lived next to us in our home back in Minnesota.
We used to spend the afternoons over there, on the four-wheeler driving out to the back of the farm, messing around in the barn and climbing the stacks of hay bales that they had set aside for the cows.
I remember always wanting to go over there and pull out the stool and lean over the bluk tank to grab another drink – just as our neighbor would come running down to the barn to tell us that our mom had called and she wanted us back home.
My mom would give us hell for drinking that milk… and all we knew it as was milk. We didn't know the difference between raw and pasteurized milk. We just knew that we loved it and every opportunity to drink it was an opportunity we wouldn't miss.
I'm not sure if she had ever tried it herself – obviously I don't think she had, because if she was familiar with it, then she wouldn't have told us to stay away from it. Somehow I'm not sure why she imagined raw milk to be scary or disgusting… it sure wasn't anything close to that.
Now, 30 years later… my family drinks raw milk and my kids absolutely love the taste. So what prompted me to incorporate raw milk into our home?'
And how does raw milk taste?
You can actually talk about the benefits of raw milk over, and over, and over… but until you actually have a gallon in front of you, and you pour yourself a glass, you may not be convinced it's for you.
What Happens with Pasteurization
When milk is pasteurized, it destroys much of the calcium in the milk as insoluble – it also destroys part of the vitamin C, and wipes out the vitamin D, and vitamin K. With the loss of calcium, also comes the loss of phosphorus, which is associated with calcium.
Pasteurized Milk today comes from cows crammed in cages loaded with synthetic hormones and antibiotics.. (Confined Animal Feeding Operations – CAFO's). Raw milk wouldn't ever be a possibility in a feeding operation as big as the ones we have today – there would simply be so much to worry about.
Pasteurization, which is natural to the FDA, destroys the chemical makeup and enzymes in milk, which are essential to providing health benefits: the result essentially is that everything is now killed and dead. Calcium is rendered to be less useful, because vitamin D and vitamin K, along with phosphorus and magnesium, which are essential for absorption) are nonexistent.
Raw milk, on the other hand, is not pasteurized .. and is an excellent source of calcium, and other nutrients such as vitamins, enzymes, and bacteria, which are not destroyed because the milk is not heated.
The Benefits of Raw Milk
Raw Milk contains vitamins, enzymes, and bacteria that are essentially destroyed in processed, pasteurized milk – and although pasteurized milk is re-fortified with vitamins, these fortifying vitamins are synthetic, lab created versions – which do not function quite the same and are not absorbed as easily in your body.
There are several reasons we switched to raw milk:
Conjugated linoleic acid is 3-5 times more abundant in raw milk. Among CLA's many potential benefits: it raises metabolic rate, helps remove abdominal fat, boosts muscle growth, reduces resistance to insulin, strengthens the immune system and lowers food allergy reactions.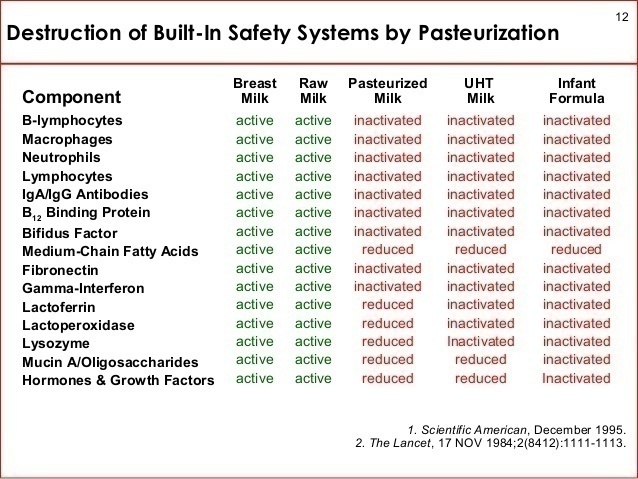 Raw Milk contains enzymes, amino acids, good bacteria and probiotics. Since the milk is not heat to high temps, the enzymes are left in tact. Beneficial bacteria help your body ward off infections and keeps you healthy.
Raw milk is digestible. Raw milk contains lactobacilli bacteria, which digests lactose – the enzymes that help you digest the milk. Pasteurized milk does not have lactobacilli bacteria… as a result, your body will struggle to digest the milk, creating an intolerance to the processed dairy.
Unlike processed milk, all 8 of the essential amino needed by the human body are found in raw milk. A survey shows that 80% of lactose intolerant CAN drink and digest raw milk without problems. (Credit)
Raw milk has lots of healthy fats. Milk from pastured cows also contains an ideal ratio of essential fatty acids or EFAs. There are two families of EFAs—omega-6 and omega-3 fatty acids. Studies suggest that if your diet contains roughly equal amounts of these two fats, you will have a lower risk of cancer, cardiovascular disease, autoimmune disorders, allergies, obesity, diabetes, dementia, and various other mental disorders. (Source)
Why Calcium is Important
The most present mineral in your body, 99% of your calcium is found in bones and teeth, with the remaining 1% stored throughout your body.
Calcium controls your magnesium levels, potassium in your blood and phosphorus – they all actually balance each other.
Calcium can prevent against heart disease, cancer and diabetes – 3 things of which are quite notable threats to Americans health right now.
Calcium also regulates your blood pressure, nerve functions and cholesterol.
The key to calcium absorption, however.. is magnesium, vitamin D and phosphorus – and because of that, it's important to eat sufficient calcium food sources along with magnesium rich foods for an even greater relationship.
All 3 of those are abundant in raw milk. Calcium from raw dairy is more bio-available and is absorbed much greater in the body – and delivered where it is needed, making it a wonderful option for people to drink.
Most people need 500 -800 mg of calcium per day – but since processed milk renders a lack of vitamins, the calcium that is available is not absorbed – rending the glass of milk you are drinking relatively useless.
Most adults in the U.S. do not get enough calcium, despite the fact that many of them consume dairy products – much of that is because the large majority of Americans may consume the wrong type of dairy.
I have never regretted making the move to raw milk for my family. We have five children, and in the last 11 years of having kids, they have never needed antibiotics. They don't suffer from any type of autoimmune disease, nor do they struggle with allergies.
I actually rank raw milk when I was pregnant and nursing my 2 youngest children. My kids are incredibly healthy with a very strong immune system.
Pasteurized milk, on the other hand, is one of the allergenic foods in America. Unlike pasteurized milk, raw milk supports healthy immunity with the probiotics, bacteria, and enzymes required to protect children from the elements: allergies and auto-immune struggles, as well as asthma.
Plus… raw milk tastes fantastic. It's hard to explain exactly how it tastes – but if you were to compare fresh squeezed juice with pasteurized juice, fresh squeezed would prevail each and every time.