The Young Living Premium Starter Kit is one of the best investments we have made in our family's health – a little over 3 years ago, I had no idea what I was getting myself into when I picked up the kit.
It came with a diffuser, 11 oils and some bonus items – it literally changed our life. It kick started a new desire to live better, and it wasn't long before we knew we would have to g beyond that starter kit to enjoy more of the benefits of essential oils.
Many people are curious to know what oils/supplements are great for purchasing beyond the starter kit. While I had a hard time narrowing it down, below are 25 favorites that are a definite must for life beyond your starter kit.
Prices and oil sizes are included – to capture the price indicated, you will need to be a whole sale member. A wholesale membership permits you to score the starter kit for $160 + earn back bonus items, and score you roils at a 24% discount *for life*.
If you use your oils as much as we do, then you will LOVE that savings!
Not a member and want to become one? Head here to get started!
1. Orange (15 ml – $10.75): Orange is an uplifting oil that is wonderful when combined with other scents like Joy, or Stress Away, or even Northern Lights Black Spruce. It's not only uplifting, it's high in antioxidants and can support overall well-being.
Related: Chocolate Orange Body Butter
2. Cedarwood (15 ml – $11.25): Cedarwood has a warm, balsamic, woody aroma. It is relaxing and soothing when used for massage, but is best used for supporting healthy rest. We love to use along with Lavender in the diffuser at night to sleep.
3. Copaiba (15 ml – $43): Copaiba is made with the gum resin tapped from the copaiba tree native to Brazil and is known for its beta-caryophyllene content and sweet aroma. Copaiba has traditionally been used to support the body's natural response to injury or irritation and supports healthy digestion.
4. Oregano (15 ml – $27.75): Oregano is my #1 winter wellness oil for supporting my immune system. It's a must for anyone who wants to have an alternative option for self care during cold and flu season.
5. Thyme (15 ml – $33.75): Thyme is one of the 3 major oils that support healthy hormones for women. It contains thymol – and is a powerhouse for supporting a healthy immune, nervous and digestive system.
6. Lemongrass (15 ml – $11.25): Lemongrass is an affordable oil that should be a must in any home. Not only does it support healthy muscles and joints, it can help provide support to the digestive system as well, and is great when added to DIY cleaners.
7. Eucalyptus Globulus (15 ml – $14.50): Eucalyptus Globulus essential oil has an earthy aroma and is known to cleanse and enhance the skin. It's also an effective oil for supporting a healthy respiratory system – especially once the school year begins.
Related: Tea Tree & Eucalyptus Cleaner
8. DiGize/DiGize Vitality (15 ml – $32.75): DiGize/Vitality contains essential oils that support the digestive system. It's wonderful to keep in your purses when you travel or eat out frequently.
9. Tranquil Roll On (10 ml – $28.75): This is a powerful blend that works wonderfully on the bottom of the feet to promote healthy rest – especially in children!:
10. Progessence Plus (15 ml – $37.50): A natural balancing oil made with essential oils and wild yam extract that supports the support of women's hormones.
Related: Hormone Support Serum with Essential Oils
11. EndoFlex (15 ml – $27.50): EndoFlex is a blend of Spearmint, Geranium, and other pure essential oils that support the endocrine system. It is also offered in Vitality form that can be taken internally.
12. Peace & Calming (5 ml – $34.75): Peace & Calming is absolutely wonderful for rest and relaxation – it works amazingly well on busy mamas and parents with children. If you have a pet, it is also helpful for them too – everything from thunderstorms to fireworks & more.
13. Valor (5 ml – $24.75): Valor is the #1 oil of choice when you are looking to promote feelings of confidence, and courage in adverse situations.
14. R.C. (15 ml – $22.75): Everyone loves R.C. – which is amazing for respiratory congestion. Use it to support the throat and chest when you are feeling like you need that extra support. This is my #1 oil of choice to diffuse at night when we start the school year.
Related: Easy DIY Chest Rub
15. Gentle Baby (5 ml – $21.25): Gentle Baby is incredibly helpful for mammas of littles – or, those who are expecting. It's calming when diffused, and can be added to DIY items to support healthy skin.
16. Deep Relief Roll On (10 ml – $26.75): Roll on problematic areas that need support or relief after a stressful workout, or when you have tired muscles.
17. Breathe Again Roll On (10 ml – $25.75): Breathe Again is incredible to have to support healthy breathing — whether it be nose, or chest, when the seasons change or you find yourself needing extra help.
18. Thieves Household Cleaner (14.4 oz – $22): This concentrated cleaner is safe, effective and wonderful to use on all household surfaces – from mirrors to counters, toilets and more. Add a small capful to 15-20 oz of water.
19. Christmas Spirit (5 ml – $10.25): A blend of Cinnamon, Orange and Idaho Blue Spruce, this oil is not only festive for the holidays (or all year long) it's such a HAPPY oil to transform your mood.
20. NingXia Red (2 pk – $71): An essential oil infused beverage, NingXia Red is loaded with antioxidants and a perfect addition to help support your wellness goals. It helps support cellular and immune function, blood sugar, and eye health.
Related: NingXia Red Gummies
21. Thieves Aromabright Toothpaste (4 oz – $10.25): Unlike conventional commercial toothpaste, Thieves Aromabright is free of fluoride, sodium-lauryl-sulfate, and other ingredients. It is all-natural with plant-based ingredients.
22. Life 9 Probiotic (30 ct – $28.75): Life 9 is a proprietary, high-potency probiotic that combines 17 billion live cultures from 9 beneficial bacteria strains that promotes healthy digestion, supports gut health, and helps maintain normal intestinal function for overall support of a healthy immune system. Your immune system starts in your gut – and this is a great way to kick off your wellness efforts.
23. Dragon Time (15 ml – $48.75): Dragon Time is very similar to Progessence Plus, but has its differences – it's a wonderful choice for supporting that female time of the month (heavy periods, mood swings, cramps, etc.). Dragon Time is a blend of Lavender, Clary Sage, Fennel, Jasmine, Marjoram and Yarrow.
24. Helichrysum (5 ml – $85): If you have kids, Helichrysum is a necessity. I have relied on this oil multiple times! Helichrysum essential oil supports skin health, liver health, and metabolism health. It's perfect for those times when your kids need extra support from their mishaps.
25. Tea Tree (15 ml – $26): Tea Tree Essential Oil has many benefits, including cleansing properties and a refreshing scent, this versatile oil can be used for everything from home cleaning solutions to skin care. We use it for making our own DIY Cleaner, but we also use it in our Facial Cleanser, too.
Related: Tea Tre & Eucalyptus DIY Cleaner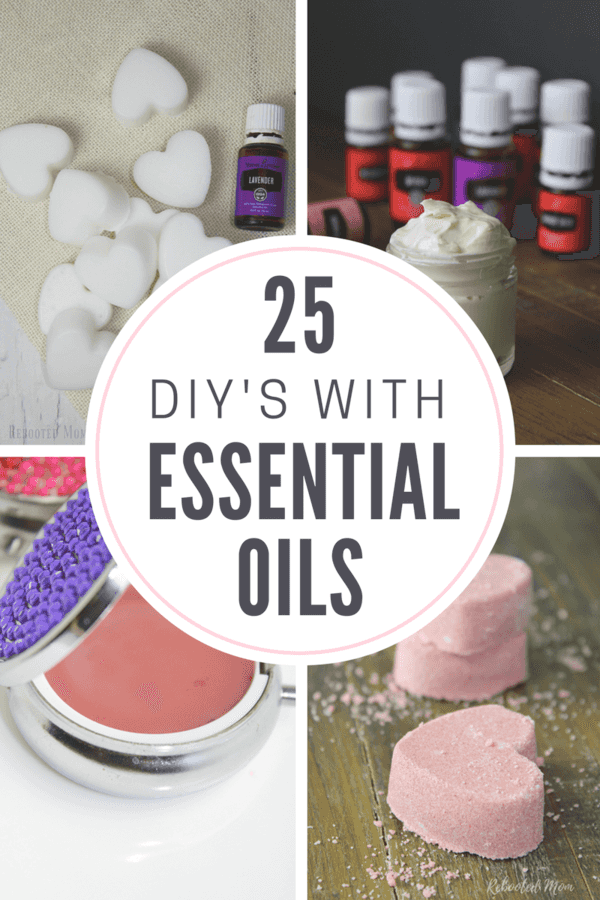 Looking for more information on Essential Oils? Here are 25 DIYs with Essential Oils.