I'm very passionate about Essential Oils and we use them in many aspects of our lives here at home.
Diffusing is just ONE of many ways we incorporate them into our daily lives – but sometimes diffusing is not an option,!
Perhaps you work in an office where you can't diffuse around co-workers – or, you might want to take your oils with you all the time for portability…. in which case Essential Oil diffuser bracelets would work amazingly well.
What are Essential Oil Diffuser Bracelets?
Essential Oil Diffuser Bracelets are bracelets that are made with porous ingredients that you can wear – they can be made of leather, clay, lava beads and more.
How do you Use an Essential Oil Diffuser Bracelet?
Essential Oil Diffuser Bracelets are extremely easy to use – just add 2-4 drops of Essential Oil on the bracelet itself.
If it's leather, add the oil to the rough part of the bracelet (usually the underside). OR, if it's lava beads, add 2-3 drops to the lava beads directly (they are porous).
In most cases, the scent will last for 2 days before you will need to reapply. Or wait until the scent has dissipated completely (3 days or so) before changing scents.
The best thing about an essential oil bracelet is you can bring the scent to your nose directly for a stronger scent any time.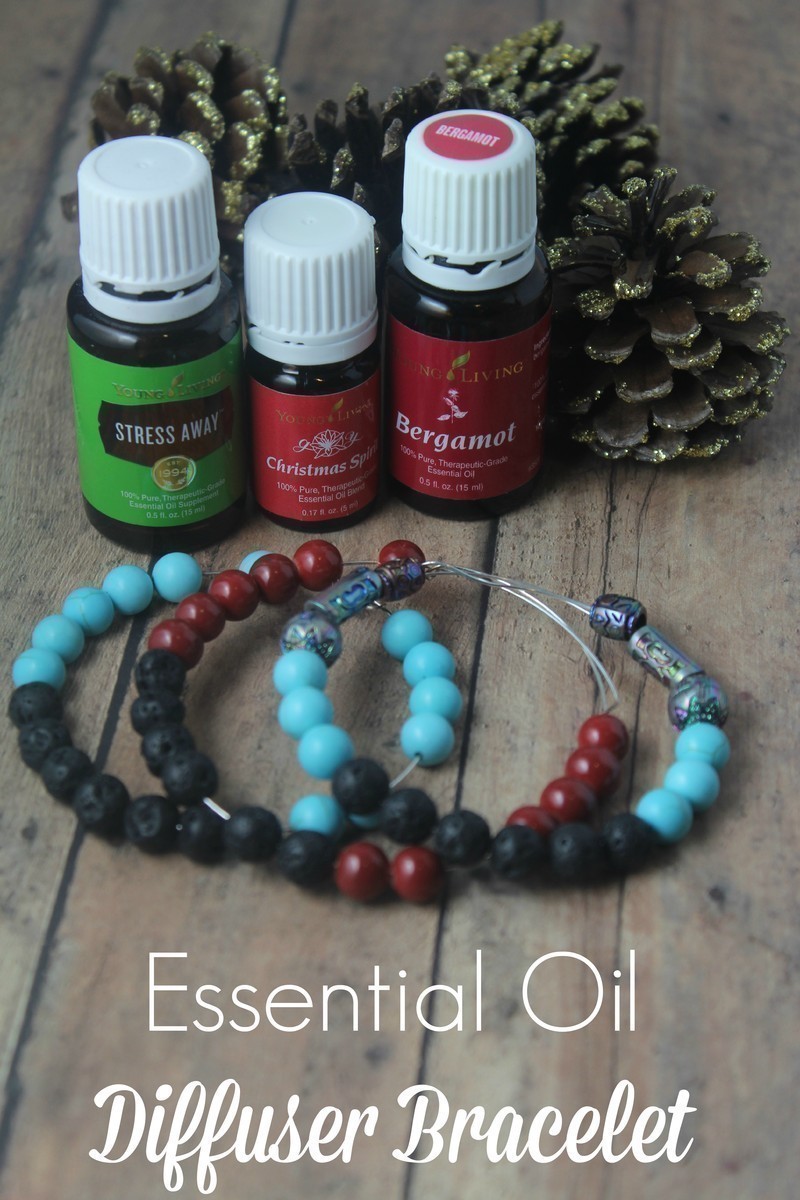 Make your Own Essential Oil Diffuser Bracelet
You can easily make your own Essential Oil Diffuser Bracelets – we made ours with Lava Beads and you can find the beads needed to put this together at Michael's Craft Store.
You can also visit Hobby Lobby for the leather essential oil bracelets – which run under $10, if you are looking for something more traditional.
Buying Essential Oil Bracelets
If you aren't up for making your own bracelets, you can buy your own on Amazon, too – or, Sacred Arrow Jewelry also carries Essential Oil bracelets.
Essential Oil Diffuser Bracelet Blends
Here are 10 Essential Oil Diffuser Bracelet Blends you can wear
Men's Blend: 1 drop Patchouli, 1 drop Sandalwood, 1 drop Cedarwood
Grounding Blend: 1 drop Lavender, 1 drop Bergamot, 1 drop Lemon, 1 drop Cedarwood
Sunshine Blend: 3 drops Tangerine, 1 drop Dill, 2 drops Lemon
Happy Blend: 1 drop Ylang Ylang, 1 drop Orange, 1 drop Lavender
Respiratory Blend: 2 drops Spearmint, 2 drops Eucalyptus
Kids Focus Blend: 1 drop Vetiver, 1 drop Cedarwood, 1 drop Lavender
Positivity Blend: 3 drops Sage, 1 drop Orange
Worry Free Blend: 2 drops Orange, 2 drops Frankincense
Clarity Blend: 2 drops Peppermint, 2 drops Frankincense
Cleansing Blend: 2 drops Lemon, 2 drops Peppermint
We love Young Living Essential Oils – not only do they own their own fields, they have a Seed to Seal pledge – not to mention they have opened up their farms ANY time (which is transparency at it's best!)
How to Get Started with Essential Oils