Essential Oils have been around for thousands of years – and although we have only been using them this past few years for our own family, they have a history that dates back pretty far.
Not only do they smell amazing, they are a wonderful way to help support your health and wellness in a variety of ways… from immune and respiratory support to restful sleep, support for hormones, and even for a positive mood.
They can be a great way to jumpstart your transition from commercial based health and beauty products to DIY Body Wash, Makeup Remover, and even Body Powder – there are a zillion other ways you can incorporate them into your personal care products as well (we're proof of that!) One way we love using them is on our kids – including the newest addition to our family.
Using Essential Oils on Children
I use them on my children DAILY, and I can attribute them to the wellness of my children. But, there are also many factors that come into play in terms of personal wellness, both for yourself and your children – not just using Oils. Just like anything else, it's always good to do your own personal research, and understand that with anything, safety is always #1 when dealing with children.
There are MANY Essential Oils that can be used on babies and children – however, because children have smaller, the dose will be significantly less than when using on an adult. Therefore dilution is required.
Diluting Essential Oils in a carrier oil (Sweet Almond Oil, Avocado Oil, V6 Carrier Oil, or Fractionated Coconut Oil) will protect their delicate skin and still maintain the strength of the essential oils.
Sometimes it's SO easy to forget how powerful they are, it can be so easy to overuse. Although some Essential Oils may not be recommended for children until a certain age, depending on the dilution ratio, sometimes they CAN be used (with caution of course!)
Many Essential Oils are appropriate for children, but they must be diluted before use. If you are using Essential Oils on Newborns or Infants, dilute 1-2 drops in 2-3 tablespoons of carrier oil. If you are using Essential Oils on Children, dilute 1-2 drops of Essential Oil in 1 tablespoon of carrier oil.
Moderation is always important when using Oils with kids – less is always better than more (and is usually JUST as effective!)
Top 3 Essential Oils for Baby
While we probably have over 200 bottles of Essential Oil scattered throughout our house, there are 3 main oils that we use with our smallest, that help in a variety of ways.
Lavender
Lavender (Lavandula angustifolia) has a scent that's a wonderful blend of fresh, floral, clean, and calm. It's this dynamic aroma that has made the flower a classic for perfumes, soaps, fresheners, and beauty products. (Source)
Lavender is great for making your own Baby Wash & Shampoo, for diffusing at night to help with a restful sleep, or add 1-2 drops in 6-8 oz of water in a spray bottle to create a fine mist that you can spray on linens and blankets to promote rest and relaxation.
Gentle Baby
Gentle Baby™ is a soothing blend of pure essential oils with an aroma that invites a sense of calming for mothers and children. (Source)
From occasional stress to stretch marks, it's great for helping to soothe and relax, as well as support healthy skin. It also helps calm emotions before and after pregnancy and can be soothing to little ones. You can use Gentle Baby in your homemade Body Wash, or diffuse at night to help with a restful sleep.
Peace & Calming
Peace & Calming® essential oil is a gentle, sweet blend of Ylang Ylang, Orange, Tangerine, Patchouli, and Blue Tansy. This fragrant oil is a wonderful addition to your meditation, evening routine, or playtime with the kids. (Source)
You will want to use Peace & Calming in your diffuser to promote a restful sleep amongst your children – even your smallest. Not only will it encourage rest and relaxation between even your youngest, it will help you unwind after they go to bed, too! Who doesn't look forward to a more restful sleep?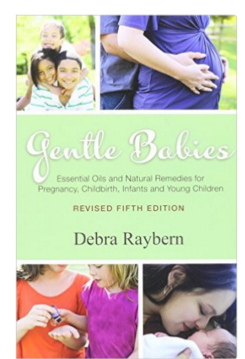 As parents, it is ultimately our responsibility to take charge of our children's health. Although you can't be an expert in all things health related, but it's always important to have reliable sources to go to. I find that this book is a great resource, to have not only on hard copy but also on Kindle:
Gentle Babies Essential Oils and Natural Remedies for Pregnancy, Childbirth, Infants and Young Children
What Essential Oils are Best?
While there are many out there, there aren't many that I can vouch for – you can see what I recommend HERE. Many Essential Oils you find in store are merely fragrance oils – and should never be applied to your body OR ingested. These oils are created as synthetic substances – the smell is a mere imitation, but the therapeutic properties are not present.
I personally recommend Young Living because not only do they have their own fields, they have a Seed to Seal promise that ensures that they are providing oils that are genuine, free of synthetics and of unmatched purity. From the time the seeds are planted to the time they seal their bottles, they are undoubtedly providing a wonderful final product without compromise.
I also love a company who has opened up their farms ANY time – that's transparency at it's best.
How to Get Started with Essential Oils
The content that we shared, above, is not intended to be a substitute for medical advice or treatment. It's always best to check with a qualified health provider for questions you might have. Moreover, this information has not been evaluated by the Food & Drug Administration and is not intended to diagnose, treat, cure or prevent any disease.