Let me tell you that it's so hard to find out that something you use regularly might be somewhat toxic for your health… right?!
We live in a time when it definitely does seem like everything is toxic in some way, shape, or form.. and the truth is that we cannot control everything. But.. you can reduce the majority of your toxic burden with a few simple changes.
That includes controlling the things that you come in contact with the most.
What's wrong with pads and tampons?
Pads and tampons are a necessity for most women – and truth is, they contain a host of chemicals that you put very close to your body (and in some cases, IN your body). Yikes.
The majority of pads formulated for women during their menstrual cycle or for regular daily use contain chemicals that allow the pads to absorb many times their weight in liquid. The also contain neutralizers and fragrance.
Those chemicals prevent your body from breathing naturally.
Tampons, while different, still contain toxic chemicals including odor neutralizers and fragrance, in addition to phthalates that make the finish on the tampons smooth.
"and many tampons contain the ingredient BPA while the bleached feminine products give up disinfection by products (DPB's) that can create an abnormal cell growth through the body." (Source)
What's the big deal about fragrance?
Fragrance might just be a word.. however, the actual mix of ingredients within fragrance is a trade secret. Under US regulations, fragrance and flavor ingredients can merely be listed as "fragrance". Under the Fair Packaging and Labeling Laws (FPLA) companies are not required to disclose trade ingredients. Fragrance is a complex mixture of many different synthetic chemical ingredients considered to be trade secrets.
Fragrance chemicals have been linked to everything from hormone disruption to cancer, to asthma, sin irritation and more. Our government protects these trade secrets over the health of citizens. These toxic chemicals can build up in your bloodstream and result in a variety of health issues.
One of the best movies to watch is Stink! (the movie)… it will give you an entirely NEW perspective on the products you use each day. (Watch on Amazon for $2.99 in SD).
Wait – there's more…
Tampons and pads also rely on cotton – which is one of the most abundant crops in the U.S. – unfortunately it's also one of the most genetically modified cops next to Soy, Canola and Corn.
"Eight of the 10 pesticides used on our U.S. conventionally produced cotton is classified as moderately to highly hazardous.
Cotton is one of the world's dirtiest crops because of those pesticides – and in 2010 (just 6 years ago, 90% of cotton was genetically engineered). (Source)
Just as recent as Oct. 2015, a study found that 85% of all tampon samples tested positive for Glyphosate. In the case of cotton and gauze, that figure was 100%." (Source)
Those reasons above should be justification enough for you to want to find a better option – and thankfully there are many healthier natural options to tampons and pads available on the market.
Natural options are available
While some of them may take some getting used to, they work just as well if not better. I personally love the Blossom Cup – which may be quite a bit more up front when compared to a box of Tampons, over time it's actually a greater cost savings.
Here are a few alternatives: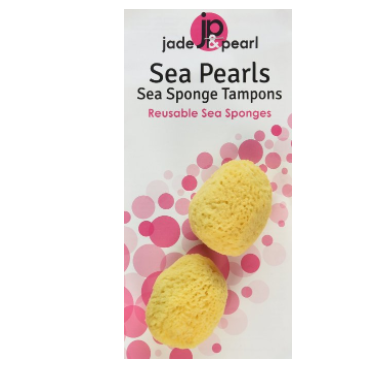 Sea Pearls are completely natural sea sponges that come from the ocean. They are reusable, and they can be trimmed down to extend their lifetime.
They are soft, & durable
They are a naturally renewable resource
They are sustainably harvested
free of chemicals, bleach, chlorine, fragrance, dyes or synthetic materials
reusable for up to 3-6 months or more
They usually come in a pack of 2 – and are available on Amazon.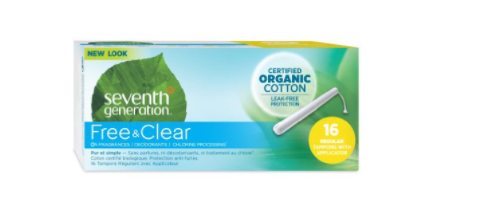 Organic Pads & Tampons
Organic Pads & Tampons are available on Amazon and at places like Sprouts & Whole Foods for just a few dollars more than your regular pads & tampons. They are made with Organic cotton and function the same as regular tampons and pads but are healthier.
There are many options for Organic Pads & Tampons on Amazon – one of the most well known brands is Seventh Generation.
Menstrual Cup
Menstrual Cups soft sided and fit inside the vagina to collect your menstrual flow. They are much more comfortable than tampons and are leak proof but do have a steep learning curve when you first start using them.
The best way to determine which menstrual cup will work for you is to read the reviews on Amazon of the cups they have featured – there are several:
At first, it was a struggle to adjust.. the learning curve was rather steep but reading the comments really did help. Make sure you read the comments.. but don't let the comments deter you from buying, because it really does get easier to use. Trust me. 😉
Menstrual Cups usually come in two sizes (sometimes 3) — for pre or post child birth. No matter what brand you chose, read through the reviews to determine what size you might want to try first. The reviews really do help.
Reusable Menstrual Pads
If you don't think you want to use the menstrual cup, and the idea of organic pads and tampons is too expensive for you.. then you can opt for reusable pads.
Many of the reusable pads work wonderfully well, but there is also the inconvenience of having to wash them.
Blossom Reusable Cloth Menstrual Pads are just one option if you decide to take this route.
Have you ever thought about the chemicals in your tampons or pads? And have you tried any alternatives?