If there is one thing I love, that is having a Rosemary Bush in the backyard. Even more.. I love Rosemary. Fresh Rosemary is amazing, and Rosemary Essential Oil is even more super…
I love using Rosemary Essential Oil on my dryer balls, and it has a clean, refreshing scent for my house – it's great to use in your shampoo for scalp support, too!
But the BEST way to use it is in fresh baked bread – I'm a HUGE fan of homemade bread. There isn't anything quite like it!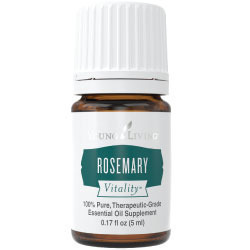 Young Living Vitality Line is great for cooking and baking – the Rosemary Vitality Oil is simply wonderful to add to your bread dough. Then top with fresh Rosemary both IN the rolls (chopped up) and sprinkled on top with a little Sea Salt and bake until golden brown.
Delicious.
Roasted Tomatillo Salsa
2016-10-08 12:28:57
Combine roasted tomatillos with serrano peppers, onions, garlic and oregano for a thick salsa that's full of kick.
Ingredients
1 medium onion, quartered
7-8 medium tomatillos, husks removed
2 serrano peppers (or, 3 if you want a hotter salsa)
4 cloves garlic
1/2 tsp dry oregano
1/2 bunch cilantro (stems removed)
1 1/2 tsp kosher salt (if you are using regular salt, stick to 1 tsp or to taste)
1/4 c. water, or more for a thinner salsa
Instructions
Turn your oven on roast and set the temperature for 475 degrees F.
On a rimmed baking sheet, combine the onion peppers, tomatillos and garlic.
Place the baking sheet in the oven on the top rack and roast for 5-6 minutes on each side until the tomatillos are nicely roasted - they might even be black and blistered - that is OK 🙂
Open the oven and flip the tomatillos over to the other side - do the same with the serrano peppers, and onion.
Give the pan another 4-5 minutes, then remove from the oven and let cool slightly.
You'll want to transfer the tomatillos, serrano peppers, and onion to your blender. Squeeze the garlic out of the cloves and add to the blender, too.
Add oregano, salt and cilantro and blend on high.
For a thinner salsa, add more water.
Pour into a canning jar with a lid and refrigerate.
Rebooted Mom https://www.rebootedmom.com/
See more bread recipes by heading back here.